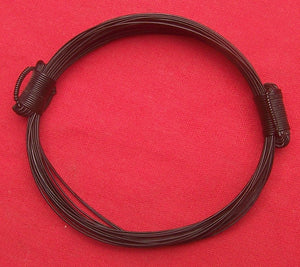 GIR5 2 Knot Genuine Giraffe Hair Bracelet (20 hairs)
Regular price
Sale price
$169.00
---
The giraffe is a symbol of balance, and with balance comes peace. The "African Peace" traditional giraffe hair bracelet is made with twenty 'standard' black giraffe hairs and finished with 2 black giraffe hair knots.
African peace has long been sought after, but now you can have "African Peace" for your wrist. Invite balance and peace into your life with this exquisite giraffe hair bracelet.
This giraffe hair bracelet is 3.5"/8.89cm in diameter, better suited to a medium to large wrist or as a bangle for a small to medium wrist.
Rare Giraffe Hair Bracelets

The giraffe is seen as the balance between head and heart or between spiritual and worldly. They say that giraffes are the messengers of the gods and to dream of a giraffe is an omen of good luck with possibilities of good fortune ahead.

Maybe you hold stock in these beliefs and what they say about carrying a talisman from this mighty beast to bring you luck. Maybe you don't.

Whatever your beliefs, these giraffe hair bracelets are truly unique and beautiful to both look at and to wear. Some of the larger designs may be suitable to be worn as an anklet on a smaller ankle.
Quality Artisanal Craftsmanship

Each bracelet is hand-crafted with great care and precision to detail. The dimensions and colors are matched very carefully to ensure the highest quality artisanal bracelets are supplied to our clients.

Our giraffe hair bracelet's are constructed from the finest quality genuine giraffe hair. We use real giraffe hair for all bracelets; we do not use synthetic hair.

All of the authentic giraffe hairs that we use come from natural and cruelty-free sources. When the hairs get collected, the giraffe are not even there to see it done (see above related article).

For an authentic giraffe hair bracelet, the real deal, you've come to the right place! Secure your own genuine giraffe hair bracelet today.